The color palette inspiration (see the rest of the set details here). The black look is a little edgier, with a lace choker and pointy nude pumps. The sage look is laid back bohemian, with flowy fabric and gold tones that complement the natural shades of the look. I'd wear a blush-toned clutch with both looks!
Our wedding details are really coming together and it makes me think about what guests might wear to our wedding! Although we are getting married in late autumn, I am really in love with these summery colors - nudes, beiges, sage - and the timeless black. In fact, some of these colors are in my own wedding lookbook! If I were a guest to a wedding this August, I would probably wear something along the lines of this...a long maxi dress (or something right below the knees - I am loving midis too) with neutral accessories and a pop of sparkle. I think with a loose braid, a tan glow, and a swipe of lip gloss, neither of these looks can go wrong! Since I do not have either of these pieces, I decided to remix my sage and black inspiration by coming up with a look from my own closet that combined the best of both looks.
One of the hardest parts about wedding dressing is finding a good outfit to match your date! When it comes to weddings, S and I love to coordinate. There have been times when I have worn really bright colors to weddings, or really bold and glitzy looks, and it's difficult for S to match. Fortunately, this outfit is easy for him to complement! ;) Actually, S personally loves Bonobos' clothing for work and play. When it comes to wedding guest clothes, I think Bonobos probably tops his list of places to look for a good wedding outfit! I am really digging their selection of dress pants and dressy chinos right now. I think they go with any outfit, and would coordinate well with my look here too. S is always talking about the quality and cut of Bonobos clothing, and their pants and shorts are no exception!
dress LOFT | bangles LOFT, madewell, and boutique | clutch Urban Outfitters | choker Banana Republic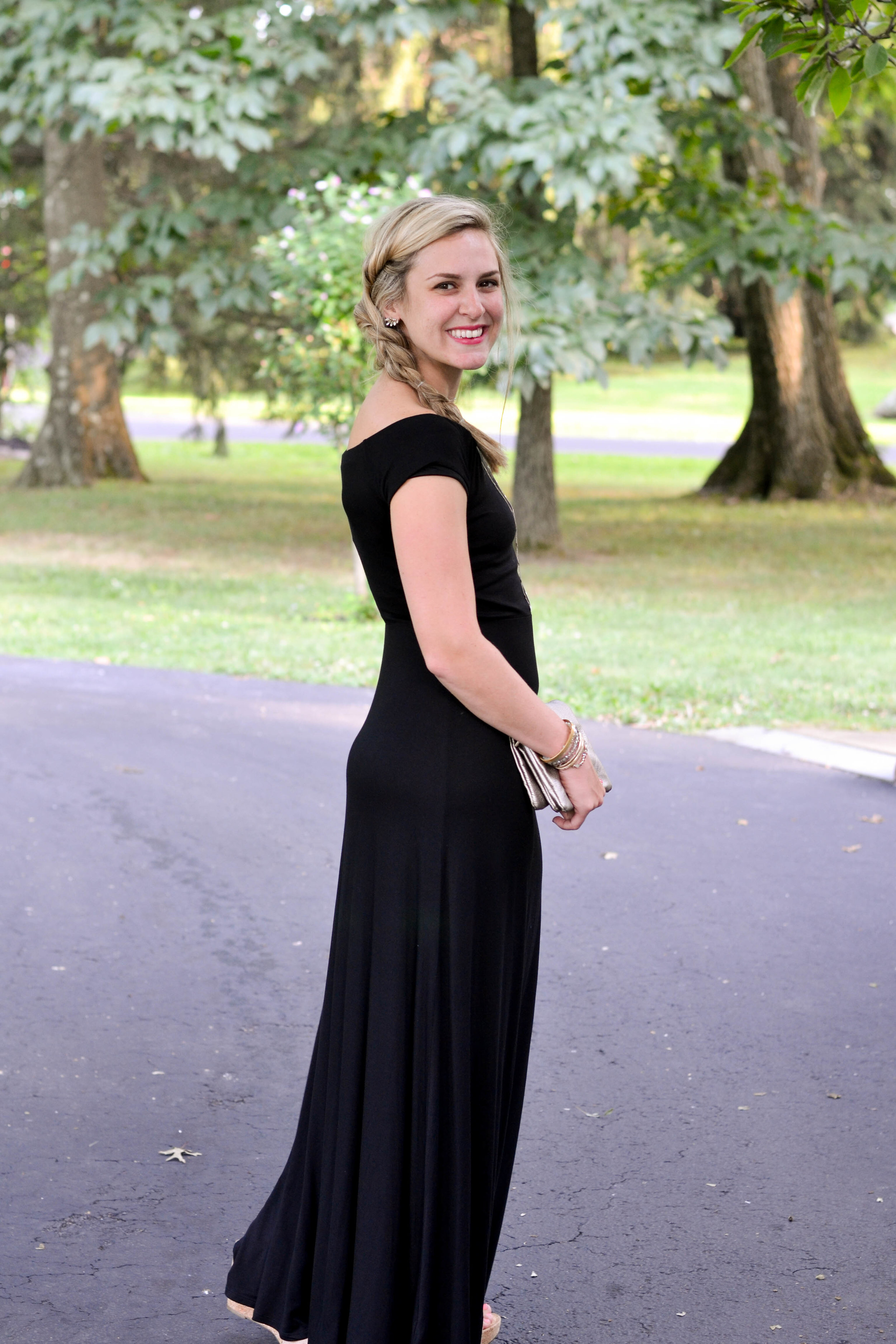 I decided to take the off-the-shoulder, black dress and pair it with a long gold necklace and sparkly bracelets. Although it may not be customary to wear black to a wedding, I thought the cut and fit of the dress was playful enough for a late summer celebration. With a loose braid, bright lips, and fun accessories, the dramatic dress feels a little more laid back.
What do you think about wearing black to a wedding?
ciao! xo