Driving up I-17 into Flagstaff, we noticed a distinct difference in the landscape; prickly cacti were replaced with tall pine trees and flat, sandy horizons rolled into chilly, blue peaks. As we approached Flagstaff, I knew it would be one of my favorites. We spent three gorgeous, clear (and breathable) nights here. It's the town I'd return to in a heartbeat - it's a short drive away from the Grand Canyon and various National Parks, like Montezuma's Castle and Sunset Crater National Park. It served as a perfect hub for our daytrips - in the summer it was delightful, and in the winter it must be so cozy. With Humphrey's Peak in the backdrop, the town is surrounded by mountains, giving it an easy and tucked-away feel. In fact, local legend has it that the song "Take It Easy" by the Eagles was actually written right in downtown Flagstaff, along Route 66. Here are just five - I could list many more - reasons why I think you'll love Flagstaff, too.
1. You'll feel Western.
Historically, Flagstaff is a town with those quintessential western vibes. The mountains, the sunsets, and even the tall pines for which Flagstaff is actually named all make it feel that way. The Mother Route, Route 66, runs though it. In the 1880's, the train tracks were laid to support burgeoning railway expansion out west. If you've got worn out jeans or broken-in cowboy boots, this is where you wear them without the slightest bit of doubt. One more thing I'll say about the "West," is that there is a slowed pace that the East doesn't have. Here, things are rushed and people are always going somewhere. There, people take the time to ask, "where are you from? What do you do?" and it makes for a fantastic conversation.
2. The coffee.
I might be new to this - but I've found that out west, the coffee culture is SO different than it is out east. Just through our bus window, we were able to spot so many roadside coffee stands - literally, just a small square-shaped box along the road with a drive thru window and walk up window. We found one within walking distance (along Route 66, of course) called Wicked Az Coffee. (I wasn't properly equipped do to a full-out Coffee Diaries post, but man, was it delicious). Most of their coffees are served Americano-style, and I loved my caramel latte. On a brisk summer morning, it was a refreshing complement to the cool mountain air.
3. Skies for stargazing.
Flagstaff is Arizona's largest northern city, but because of the surrounding mountains, it makes for a great place for several observatories. Back in 1930, the planet* Pluto was actually discovered there by Clyde Tombough. I was so excited to peer through the Clark Telescope and see, in all its clarity, Jupiter and its four moons. The telescope was so strong that I was even able to see the storm bands on Jupiter's surface. It was a stunning glimpse I will never forget!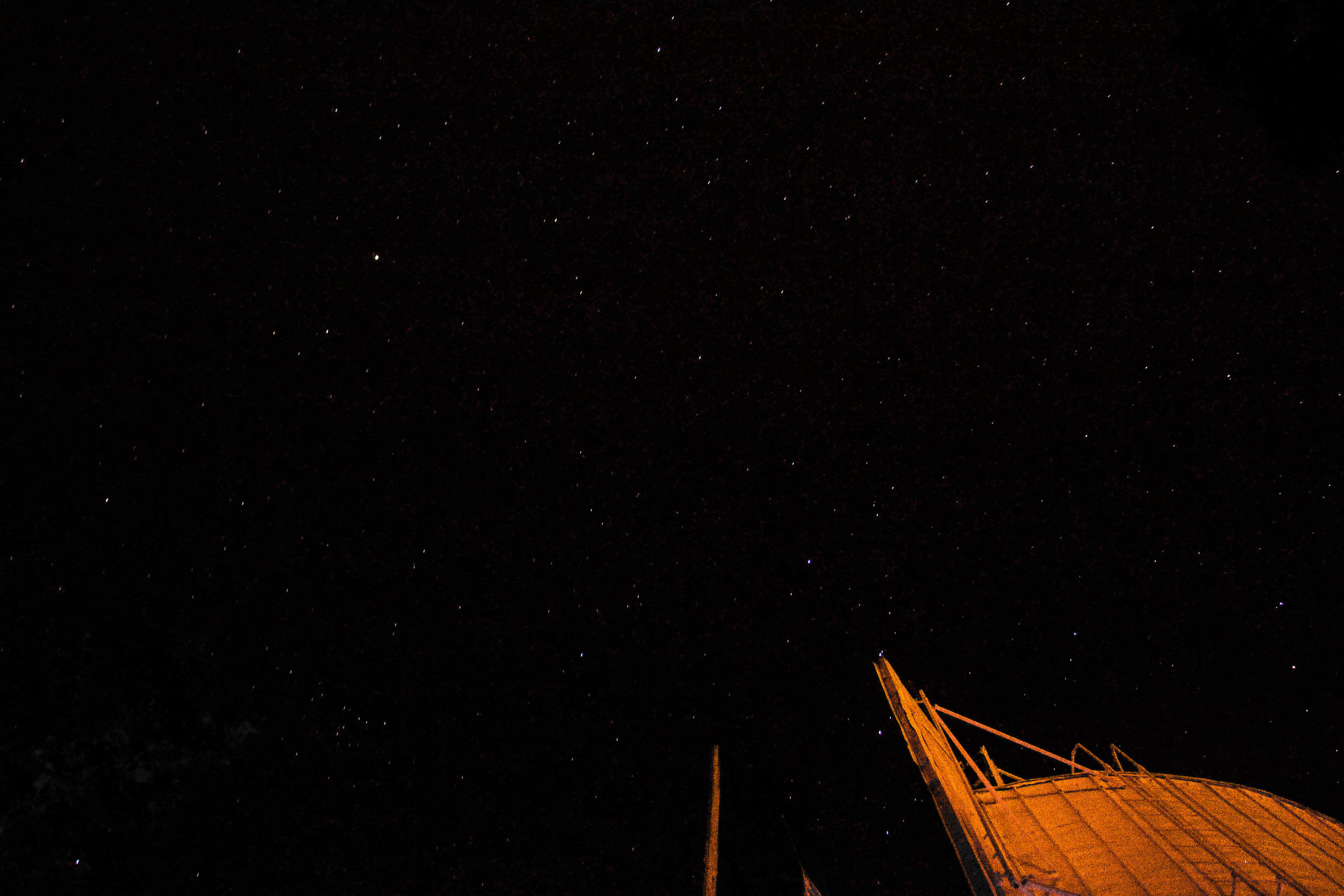 I set my camera down to take a long-exposure shot without any tripod or appropriate lenses - this is what I got. Astronomical photography is hard without the proper equipment - nothing beats just looking upwards into the night sky with the naked eye.
4. The mountain chill.
Flagstaff is a high elevation city at over 7,000 feet - one of the highest in Arizona and the United States, according to the City of Flagstaff. It is also home to one of the largest ponderosa pine forests in the country. It is so different from the rest of Arizona, making it a haven away from the unforgiving desert heat. When in Flagstaff, you don't really feel like the desert is all too close. Elk roam free, woodland creatures scurry about, and the towering Humphrey's Peak stands nearby, still snowcapped in the summer, offering a sense of natural serenity, yet adventure.
5. The Navajo lore.
We stopped at a trading post in Cameron, AZ which is actually on the Navajo Reservation. While there, I felt an inexplicable sorrow - our nation has done horrible things in the name of westward expansion, and pushing this culture (and others) onto a designated reservation plighted with poverty is downright wrong. Politics aside, the Navajo lifestyle immediately grabbed my interest. I learned that despite modern times, some Navajo families still abide by age-old traditions, such as keeping a hogan, an 8-sided home, for ceremonial reasons. It was fascinating. My favorite takeaway from visiting the reservation was listening to Navajo music. It is soothing, and so clearly tells a story. It's the perfect sort of music to start the day with.
Other Flagstaff Favorites For When You Go
The Flagstaff General Store | a beautifully curated selection of pieces for the home, kitchen, and everyday wear. I picked up some turkish towels here for our LBI trip! This store was, hands down, my favorite because most of the items for sale are created by local artists and craftsmen.
Peace Surplus | I truly enjoyed perusing Peace Surplus's mountain wear - this is a great stop if you're planning on picking up some well-made hiking shoes!
Charly's Pub and Grill at the Weatherford Hotel | Situated on the corner of North Leroux Street and West Aspen Street, the Weatherford Hotel has a fascinating history since its opening in 1900. We dined at Charly's for a well-deserved, relaxing dinner after a week of nonstop moving (and hiking). My favorite part? The old black and white photographs on every wall, showing the true age of this gem.
Places for Next Time (I Wish I Went!)
Macy's European Coffeehouse
Mother Road Brewing Company
Altitudes Bar and Grille
*Pluto technically has been downgraded to a 'dwarf planet,' according to the International Astronomical Union in 2006. They changed the definition of "planet," knocking Pluto off the list, in a highly controversial decision. However, some people look at this downgrade as an upgrade. In a sea of dwarf planets, Pluto is perhaps one of the top dogs. Think big fish in small pond.