S and I are getting to the age where it seems like everyone, including ourselves, is getting married! It is so much fun to hear proposal stories and see #ringshots and talk about plans with fellow friends, compare vendors and discuss ways to breathe new life into wedding traditions. Just this May alone, I went to wedding-related events pretty much every weekend! It has been so much fun to be a witness so many wonderful couples sharing their love with their closest family and friends. It's crazy because we wrapped up our last wedding as GUESTS - the next wedding will be our own. Yes!!!!
One of the struggles, though, as a wedding guest slammed with multiple weddings per month is the whole problem of what to wear. I usually like to splurge on Rent the Runway, which I've done here and here, but it can get pricey. I decided to look and invest in a few wearable pieces that could get me through many future events (not just weddings). I really found the best pieces at Nordstrom, which is quickly becoming one of my favorite stores ever (it's dangerous!).
Another struggle is abiding my the age-old piece of advice for wedding guest etiquette: never outshine the bride. This piece of advice can be interpreted differently, but I don't think people stick to this rule enough. I am a pretty modest dresser to begin with, but I think it is important to dress respectfully at a wedding. You can still do so while trying out some of the newest trends or playing with fun accessories. Of course, there are obvious rules (like "don't wear white" - unless you're Mindy Kaling on the Office). Guests need to consider the venue: is it a church or a backyard garden wedding? They also need to consider the dress code, if the bride and groom identify it on their invite. There is certain language that you may see printed on the invitation: "BLACK TIE OPTIONAL" or "COCKTAIL" are a few that come to mind. What does that even mean?
I really like how The Black Tux has a guide to help coordinate dresses with suits and tuxes. It is easy to use but not overbearing, since you ultimately have the freedom to wear what you want. It's a great set of recommendations that I will definitely be using from now on. We are the first of our friends getting married, so we will have plenty more weddings in the next few seasons, I am sure! Be sure to check out The Black Tux's free home try-on for your date, if you're not near their 11 great locations.
Look #1: Laid Back Springtime Wedding
I loveeeee this dress because of how frilly and feminine it is! I wore it to my bridal shower earlier this month, and wore it again for another May wedding this past weekend. It is great for a laid-back springtime wedding, outdoors ceremony. I think it's even conservative enough for a mid-day church ceremony. It is so versatile and I love the small stripe details that add a little bit of springtime classiness to it. The best part, hands down, are the layered sleeves. I found that it is a really unexpectedly flattering cut, too! It's below $100, which makes it all the more sweet.
I wore it a little differently than the model, but I like how you can wear the frills on the outside of your arm if you're into the shoulder cut-out trend. As you'll see, I really like to wear down my accessories and get the most use out of them - the Kelly & Katie shoes have been my go-to for my month of weddings! They go with everything, plus they're the perfect height without being too straining on my feet.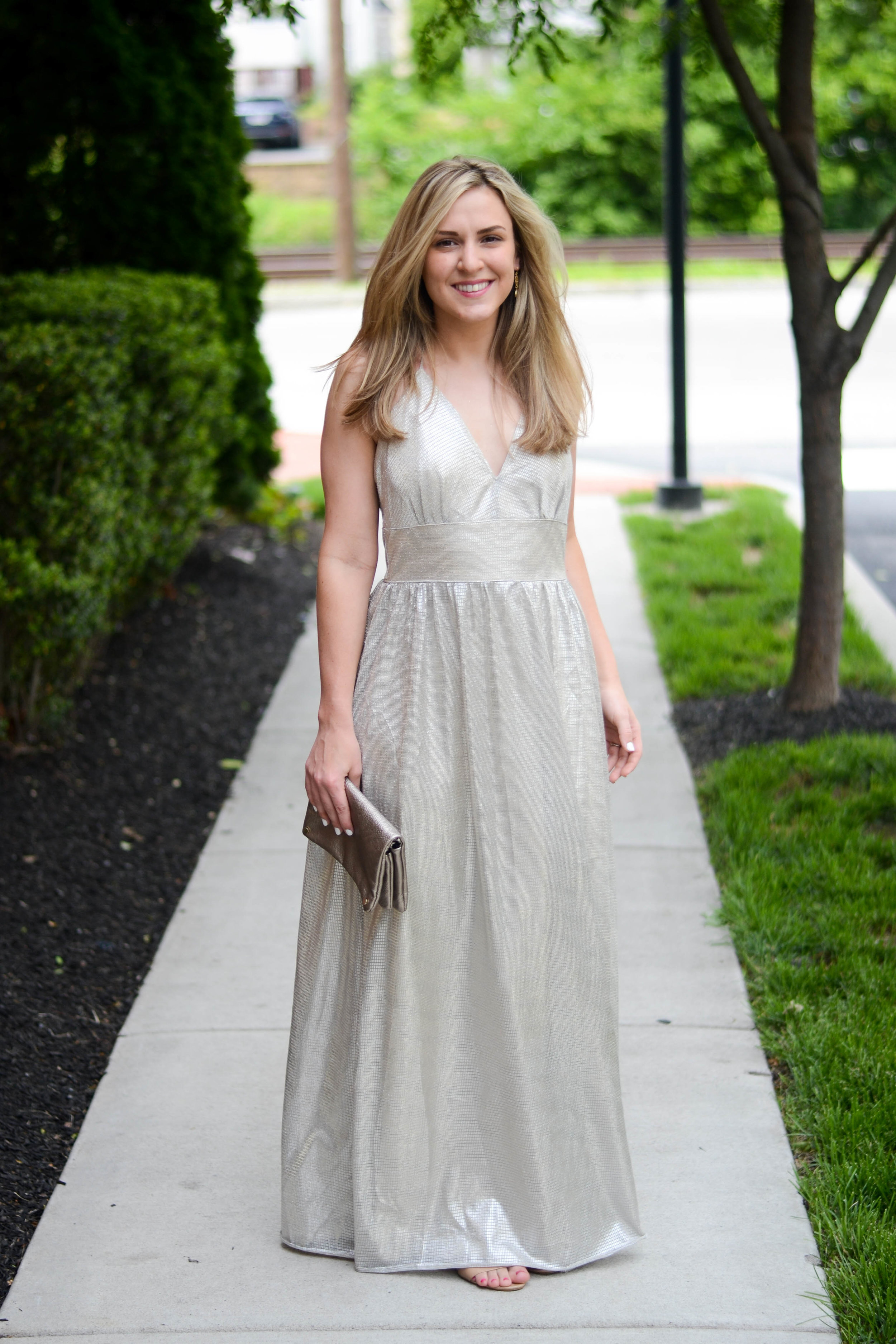 Look #2: Black Tie Wedding Glamour
Dress: TJ Maxx | Clutch: Urban Outfitters (old) | Shoes: Kelly & Katie
Believe it or not, this gold dress was only $30! I scored it at TJ Maxx, where it's always a gamble...you never quite know what you're getting yourself into. This dress is incredibly light and comfortable, perfect for a dressy event or black-tie wedding. I re-used my gold clutch, as well as my Kelly & Katie shoes which went with it perfectly. Unfortunately one of the straps broke (it used to have a cute cross-tie back) so I had to improvise and turn it into a halter. It held up!